Upload Bank Statements
For reloan customers in Alberta, we allow submission of bank statements in the customer portal area. To submit bank statements using the customer portal, log into the customer portal and click 'apply for a loan' and review the disclosure in full before submitting your bank statements.
---
For Alberta reloan customers, there are two options to submit banking information to us. One option is to use the inverite verification application. For more information on the Inverte Verification application, click here. To submit banking information using the customer portal area, click 'Upload Document' to continue
---
Once you are at the page shown left, you can begin to submit your bank statements to us through the customer portal. Please ensure you have already saved your bank statement details for the last 60 days on your computer/smartphone. For best possible results, please submit bank statements using the full site of your online banking. Our program is currently set up to support the following file types : PNG, GIF,JPG,HEIC and PDF
---
Once you click/tap ' Tap to upload or Drop your files here' and you will be able to select the file containing your bank statements you would like to upload.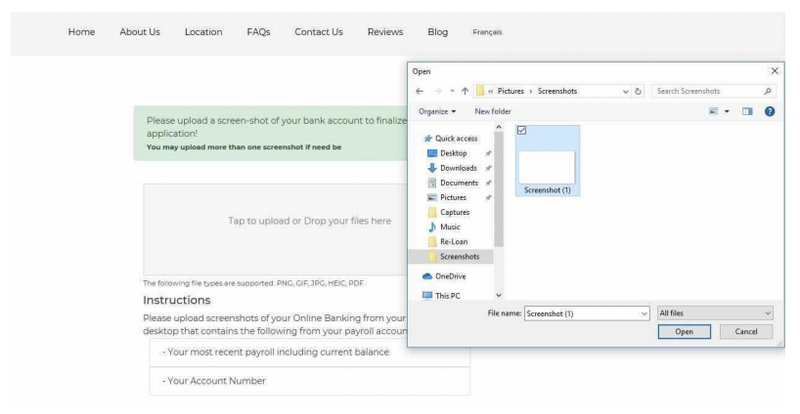 ---
Once your file is showing as uploaded in the customer portal, you will also be asked to submit your next four payroll dates
---
Our representatives will use the bank statements to determine reloan amount and repayment dates for your loan and email you a contract once approved.